Where is the limit between our bodies? Each vital core should be crossed and knocked down like the Berlin Wall. We are made of the same substance of the breathing Nature. We can not choose the color of our petals, but we can give it to the wind. Every day we die every day we born and we can not in any way protect ourselves from difficulties. This is our weak point that makes us invincible (human). We must be grateful to the error, to the repugnant, to the repulsive, to the wickedness of others, to our obtuseness: they are opportunities to start again. Nothing is destroyed. Everything is transformed.
And what did you think the first time you saw me?
If I tell you that the cage doesn't exist and that everything is inside our head…
Freedom is fire. Freedom is my Phoenix.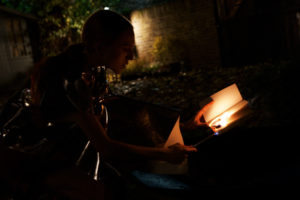 NOISE OF METRONOME, HEART AND FIRE THAT BATTE
Thanks to Agnese and Alessandro,
BOMBING
Thanks to Elena and Alex,
ADRENALINE
Thanks to the Estorick Collection, to Roberta, Claudia, Luke, Chris and Marco
METRPOLIS
Thanks to Federico
MEMORY
Thanks to Teresa
FLIGHT
Thanks to Piero
COMBUSTION
Grazie a Nico e a tutto il team di Artvisor
CHALLENGE TO THE STARS
Thanks to Paola and Silvia
JUMPING
Thanks to Tamara and Carla, Marco and Filippo
DESTRUCTION
Thanks to Letizia
SPEED
Thanks to Gia and Adriana
PASSION
Thanks to Stella
ROSE
Thanks to Anna Rosa and Giovanni
ARCANE
Thanks to Umberto and to whom I have already mentioned in the small incendiary edition…
LIFE
Thanks to those (virtually and physically) present who came to the "Fenice" exhibition and the performance "Futura poesia".
REBIRTH
Thanks to Giuseppe, the art teacher who opened the door to the Futurist hell where my soul lies.
CHAOS
Thanks to the Fire. Thanks to all the evil of these years, my Phoenix, because I am finally free and more alive than ever.