An egg-matrix-origin can host different children of the same natural mother
Two at the same time but not just two during the dream of a whole night
And represent through that meeting
Its universal center
Made of unique.
An egg-matrix-origin can be nest created in a pleasant and loved place
For this perfect place
Ideal with will.
A single person can meet the other person for the first time and give himself each time as if he were the first, asking the other for a sincere imagination
To leave the problems behind the last door
Close the eyes
And breathing deeply because you are safe, there is peace, everything and nothing and infinity can still happen.
On the leaves of my root I have placed this egg-matrix-origin, my feet and my voice
Nothing more
I waited for the other one as if it were the last one
And every time I got excited about following the dream that won in his mind and memory
I followed the geography of changes and smiles on his face
And in greeting him I hoped that by retracing his steps he would have left a mark of this vision of his and so it was
Cultivating it in purity
As a significant monochrome, pleasant and perfect it was the pearl of the Fondazione VOLUME!
The support of his family and team that is sensitively attentive to every imperceptible magic, the friendly people who believed, supported and gave heart and support to the project, my loved ones, my Tuscan affections, my Roman affections that make me feel at home every time I travel and come back Elsewhere.
Thanks to all of them.
Thanks to the dreamers who shared this first dream experiment and who followed my promise of a work in progress.
Maybe it was all a dream …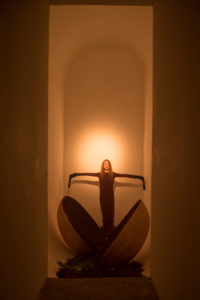 Sogno 1: Archetipo del sé
Reverie at Fondazione VOLUME! di Roma
23-24 November 2019
A special thanks to: Francesco Nucci and Daniela Bartoccini Nucci and Fondazione VOLUME!, Videocittà and Damiana Leoni, Walter Conti, Erica Massaccesi, Agnese Sabato, Tamara Pasquinucci, Alessandro Vezzosi.
Press office PCM Studio
Ph Roberto Fellicò
Link:
www.exibart.com/arti-performative/invito-al-sogno-reverie-da-fondazione-volume/
flash—art.it/2019/11/agenda-novembre-2019/